Electrical engineer and ASPIRE director Regan Zane is featured speaker for public outreach event.
03/28/2022 — London's Brixton District "Electric Avenue" was among England's first major streets to be lit by incandescent lights in the 19th Century. On this side of the pond, in 1881 Salt Lake City was the fifth city in the world, behind the much bigger metropolises London, New York, San Francisco and Cleveland, to initiate central electric service. Electrified transportation — namely an electric trolley system — was the primary motivation for the Utah capital's innovation.
Utah State University continues the state's leadership in electrified transportation as the site of Advancing Sustainability through Powered Infrastructure for Roadway Electrification, or ASPIRE, a multi-institution, National Science Foundation-funded Engineering Research Center.
ASPIRE Director Regan Zane will share the center's exciting plans for the future at USU's Science Unwrapped on Friday, April 1. He will present "Electric Avenues" at 7 p.m. in the Emert Auditorium, Room ESLC 130, of the Eccles Science Learning Center on campus.
Admission is free and all ages are welcome. Hands-on learning activities and refreshments will follow Zane's presentation. The talk will also be livestreamed via AggieCast from the Science Unwrapped website.
Rising gasoline prices are making electric vehicles more attractive to buyers and, for those on the fence, Zane says now is the time to make the switch.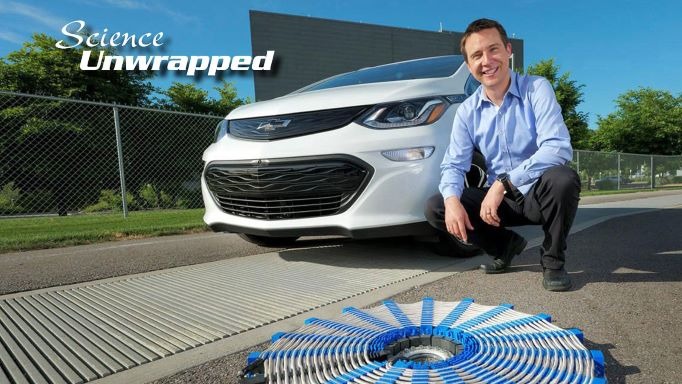 "The writing is on the wall — the world is shifting to electricity," says Zane, David G. and Diann L. Sant Endowed Professor in USU's Department of Electrical and Computer Engineering. "Charging systems and infrastructure, including roadway electrification, are the primary focus here at the ASPIRE center. These will make electric vehicles a more convenient, practical clean energy alternative."
The April 1 event is the final talk for Science Unwrapped's 2021-22 "Science on the Horizon" series. The program returns with a new series in September 2022.
Established in 2009, Science Unwrapped is a public outreach program of USU's College of Science. Science Unwrapped talks are recorded and posted online for continued viewing convenience.
For more information, call (435)797-3517, visit the Science Unwrapped website or view the "Science Unwrapped at USU" Facebook page and Twitter profile.
WRITER Mary-Ann Muffoletto Public Relations Specialist College of Science 435-797-3517 maryann.muffoletto@usu.edu
CONTACT Tallis Blalack ASPIRE Managing Director tallis.blalack@usu.edu
###
ASPIRE is the NSF-funded Engineering Research Center taking on the nation's electrified transportation challenges. ASPIRE develops solutions to facilitate the widespread electrification and charging infrastructure for all vehicle classes with the goal of improving air quality and creating more equitable transportation and electric utility infrastructure. ASPIRE's efforts will help reduce and stabilize transportation costs and create inclusive pathways to develop a diverse engineering workforce prepared to support cross-industry transformations.
Writer(s): Mary-Ann Muffoletto